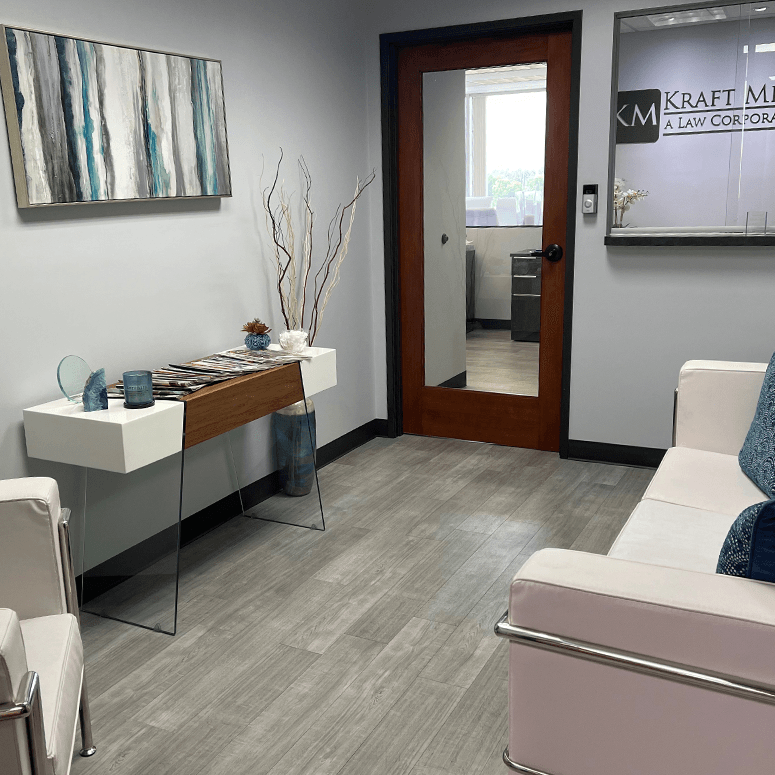 Woodland Hills Divorce, Child Custody, and Family Law Attorney
Family transitions are hard. Divorce and separation take a huge toll on you mentally and physically, and that is just from the loss of the relationship. Adding to that stress, there are practical concerns about money, property, children, and the future.
At Kraft Miles, A Law Corporation, we know how difficult this time is. Sometimes you feel as if you are fighting for your life. Let us help ease your burden by taking legal concerns off your hands. With over 60 years of combined experience, we have the skill to advocate for you, helping you achieve peace of mind during an already tumultuous time. Led by board-certified specialist Joy Kraft Miles, our team knows how to handle your case, from short marriages with low assets to long ones with complicated wealth.
For help handling your divorce in Woodland Hills, call us today at (818) 462-5076 for a consultation.
Legal Separation
Separation can be a way of ending the relationship while keeping the marriage legally intact. There are many social reasons to consider a separation over a full divorce. Sometimes a couple just needs a break, a kind of "practice" divorce to see if they are ready to be apart. Often, people have moral or religious reasons to keep the marriage legitimate.
Beyond the social, there are legal reasons why someone may wish to stay legally married. There may be tax reasons why you cannot divorce right now, as your incomes are still intertwined. One partner may be receiving necessary benefits from their spouse, be they related to health insurance or benefits as a military spouse.
Whatever your reasons, our firm is here to help. Sometimes separation can be as difficult as a full divorce, with matters of support and property division to consider. We know how to navigate these complicated legal concerns, and we may be able to help you negotiate a fair, mutually beneficial agreement with your spouse.
Paternity Issues and Father's Rights
When a child is born, there is no question as to who the mother is. The fatherhood, or paternity, of a child can be more uncertain. A pregnant woman married to a man can have him legally declared the father, regardless of his biological connection to the child.
If you are having difficulty securing legal paternity for your biological offspring, call us today. We can help you file all the necessary forms, keeping the process smooth. Sometimes, courts may deny paternity based on their interpretation of the child's best interests. We can advocate on your behalf, demonstrating how your inclusion in the child's life will benefit their wellbeing.
These days, family law does not favor a mother to the detriment of a father. As a father, you have a legal right to have access to your children. You have a right to visitation, contribution to child support, and much more. Mothers cannot block these rights, and they can be held accountable for trying. Kraft Miles, A Law Corporation can help you push back against a parent trying to keep you from participating in your child's life.
Spousal Support
When dividing property in a divorce, California courts endeavor to split the marital assets 50/50. Even after this split, one partner could be left with little to support themselves. This is why spousal support exists, to keep the lower-income spouse sustained.
At Kraft Miles, A Law Corporation, we understand how stressful this situation is on both parties. One person may be worried about making ends meet, while the other may be concerned about unfair, unreasonable payments. We are prepared to work with you, no matter your concerns. Our job is to make help make sure support is fair, whether you are the giver or receiver.
Uncontested Divorce
In a best-case scenario, a couple avoids battling for a "win" in divorce court. If you and your spouse can still work together, you can file for an uncontested divorce. This means that you agree to all terms and conditions of the divorce and send this agreement to the court.
We can help you work out the details, ensuring that you don't overlook an important decision. For areas where you cannot agree, we can provide mediation. Our skilled attorneys can work with you as a team, helping you communicate and reach amicable conclusions.
An uncontested divorce saves a lot of strife. It takes much less time, as there will be only a handful of meetings, keeping you from long, delayed courtroom arguments. Less time with lawyers and courtrooms means less money spent, avoiding expensive legal fees.
Emotionally, an uncontested divorce can be much easier on both spouses. Working collaboratively, you may even find that you are honoring the relationship. This can help you part as friends, which is especially helpful for co-parenting.
We can help with all your family law needs, including:
Child Support and Child Custody
Restraining Orders
Property Division
Termination of Domestic Partnerships
Prenuptial or Premarital Agreements
And much more!
Call (818) 462-5076 today for family law and divorce needs in Woodland Hills. You can also use our convenient online contact form.

"Joy was always available, professional, super knowledgeable, and very supportive throughout the entire process."

- Steve L.

"Joy is a knowledgeable attorney and incredibly generous with her time and point of view."

- Anonymous

"Her wisdom, grace, and honesty are second to none."

- Layla

"I am truly grateful to Joy and her team for being thorough, diligent, and respectful to help my children and I through this difficult and challenging time."

- Elizabeth M.

"I knew from the first moment I chatted with them on the phone that Joy and Leslie would be the right legal team for us."

- Former Client

"I can't thank her and her staff enough for the peace of mind they gave me."

- Steven